Animal Behaviour Consultants
Testimonials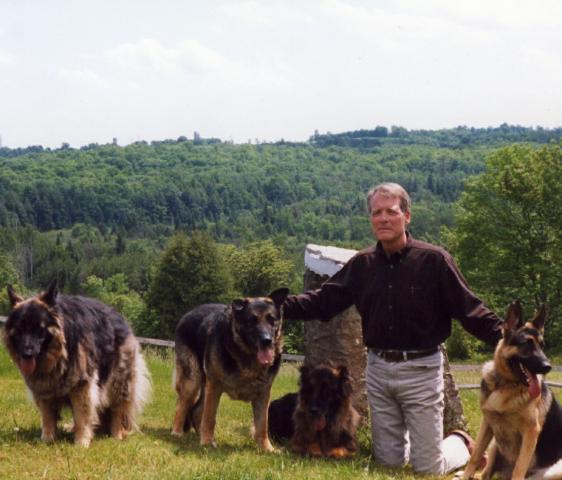 "I am the founder of Haven Of the Heart Animal Sanctuary, and I have known Kerry Vinson for the last 15 years that he has been in the animal behaviour business. During that time period I have referred numerous dog owners to him so that he could help them with the serious behaviour problems their dogs were displaying, mostly relating to aggression. These people wanted to be able to manage these problems so that they could keep their dogs. Due to Kerry's knowledge of canine behaviour, and the behaviour modification programs he provided to them, every one of these owners was able to keep their dogs. In all of these cases the people involved were grateful that I had referred them to Kerry, and gave me nothing but positive feedback on their experience with him."
Ursula Hart
Haven of the Heart Animal Sanctuary
RR 1, Palgrave, Ontario L0N 1P0
(905)936-3055
"Kerry has been associated with The Animal Clinic for some years. He is the professional to whom we refer clients who have pets with behavioural concerns. His prompt attention, good follow through and good results have been much appreciated."
Dr. John  Reeve-Newson
The Animal Clinic
106 Mutual Street
Toronto, ON  M5B 2R7
"Kerry Vinson has been a member of Doggone Safe for several years. Through his writing and educational community seminars he helps promote force-free dog training and improves community awareness about safety around dogs and effective training techniques. Kerry's work as a expert witness has helped provide justice for both dogs and dog owners. He was the author of many of the recommendations resulting from the coroner's inquest into the tragic mauling death of Courtney Trempe, that were the basis for the founding of Doggone Safe."
 
Joan Orr M.Sc.
President, Doggone Safe
www.doggonesafe.com
"I have referred many clients to Kerry Vinson over the last 10 years. Certain cases of dog behaviour (especially aggression) need to be handled by an expert like Kerry with such a wealth of knowledge and expertise in the field. Some cases specifically need to be dealt with in a timely fashion and Kerry is quick to contact and accommodate clients. I have personally attended Kerry's seminars and always refer clients and employees to attend them. Kerry is a great asset to the canine field and will continue to receive my referrals."

Darlene Johnson
Director
K9'S in KAHOOTS
Stouffville, Ontario

I am pleased to have a knowledgeable colleague who specializes in non-confrontational, leadership-based training, to which I can refer dog owners. My staff and I have attended Kerry's seminars in the past and have found them to be informative and helpful. Kerry and I have had mutual clients since 2001, and it is his dedication to changing dog aggression related statistics which inspires me to continue my recommendations for his services.

Debbie Reynolds, CTB.ccs
Director – Life's Ruff Dog Training
Markham, Ontario

I have known Kerry for several years and we've had many discussions about dogs and their occasional behavioural challenges. He is clearly passionate about dogs and devoted to helping owners with various issues, particularly aggression. His valued expertise has frequently been sought by the courts in dog bite incidents.

Shelagh MacDonald
Program Director
Canadian Federation of Humane Societies
"Two years ago, following a bite incident with our dog and a guest in our home, we were referred to Kerry Vinson by our Veterinarian. After Animal Services took our dog away, threated charges against us and wanted to have her euthanized, Kerry played a very important role in our lives. Upon the first time speaking to Kerry he offered an abundance of information, as being stuck in this position with authorities can be extremely overwhelming and intimidating. Kerry later performed an extremely detailed behaviour assessment on our dog and like us, felt that our dog was provoked. This offered so much reassurance that we were doing the right thing fighting for her life and definitely made us feel more comfortable bringing her back home with our young son. Throughout a fourteen month battle with the courts, our beloved dog was able to be at home where she belonged due to a preliminary report that Kerry provided to the authorities.
We are certain that the knowledge that Kerry provided us, as well as his final detailed report based on the formal assessment of our dog which was presented to the court, is why the authorities did not have a strong enough case and is why our dog has been home and happy ever since. We are forever grateful to Kerry and happy that we met him as we are certain the outcome without Kerry would have been drastically different."
- Lindsay Olender
  Brooklin, Ontario




"I don't know if you will remember me or my dog Rex (American Staff-that was a rescue pup), but we consulted with you about 11 years ago for Rex when he was just a puppy for severe aggression and separation anxiety, when everyone said we should put him down. I just wanted to let you know that the best thing we ever did for Rex and our family was to engage your services.

Because of your intervention 11 years ago Rex has been a wonderful part of our family and a poster dog for identifying & working on behavioral problems. Our family has continued to diligently make sure that Rex knows all humans around him are his leaders, as per your plan for him 11 years ago. In fact, no matter who feeds Rex he will sit & wait to eat his food until he makes eye contact with the person providing it & receives a verbal "ok"-including our 8 year old grand-daughter. We can even remove his food while he is eating & he will patiently wait to have the bowl put back for him & receive the verbal "ok" command. Long walks are still the norm although he has slowed down with age.

I have had numerous people ask me how long it took to train Rex as he is so well behaved, the last person received the response "oh only 11 years", as he receives constant positive reinforcement. Everyone loves Rex even at his vets office they describe him as a joy & a sweetheart. Even strangers who at first glance are weary (due to his breed the law requires that he always wears a muzzle in public- which makes people uneasy) have commented after greeting him that he is a sweetheart.

I just wanted to thank-you for your intervention all those years ago as Rex has been a wonderful companion and we hope his has many more years as part of our family."

-Brenda Matthew
Kingston, Ontario

"Even though it was almost a year ago (June 2011), I still remember the panic and fear I was feeling that I wouldn't be able to keep both of my dogs (Golden Retriever and Jack Russell Terrier) because of the severe aggressiveness between them. Thankfully you (Kerry) were recommended to me and was soon on my doorstep. I stood in awe that within 5 minutes, you had the two of them nose to nose and not a snarl to be heard. What really helped too was that you not only explained how we as humans could alter our own behaviour, but WHY it would work. The behaviour prescription you documented worked like a charm and now I'm the pack leader in the home and the dogs can co-exist in harmony. I also am now equipped to know the warning signs and how to preempt any unwanted behaviour. Thanks Kerry - you ROCK!"

-Shirley Steward
Napanee, Ontario

"Over several years Kerry Vinson has fitted hundreds of dogs with my invention, the NewTrix dog halter. I have known Kerry to involve himself professionally in challenging cases of canine aggression both as a behaviour consultant and as a court witness. Kerry's experience with dogs, his talents as a communicator, and his knowledge of animal behaviour have provided a much needed service to the community."

Dr. Robert Curran, DVM
President, NewTrix Advanced Pet Products
dr.curran@newtrix.ca
"I am a defence lawyer practicing in all levels of Courts in Ontario. I have successfully defended many Dog Owner's Liability Act (DOLA) cases. I was also an Assistant Crown Attorney for over 10 years, during which I prosecuted Animal Cruelty cases.
In my first DOLA defence case, I knew from the outset that if I was to challenge the Prosecutions allegations and save this dog's life that I needed an expert witness in the area of Animal Behaviour and Aggression. The problem I had was that I did not know where or how I could obtain one. A respected Humane Society provided me the name of Kerry Vinson. As a seasoned trial lawyer I had learned to be wary of experts who at first promised miracles but later, often after payment, I learned actually lacked credibility, expertise and the ability to present it to a Court. I next telephoned Kerry Vinson and you can imagine how pleased I was when the first words Kerry Vinson uttered were: "Please understand that my assessments and testimony will be accurate and impartial, no matter who retains me. My obligation is to learn the truth, report it and you may not like it." That was the beginning of a long and successful relationship with Kerry Vinson.
Kerry Vinson is a highly regarded expert for the reason that he has all the traits that Courts need and value in an expert witness which are:
Knowledge and Experience;
Detailed and thorough assessments that incorporate a tested formula involving all sources;
Well written, comprehensive reports;
Trial testimony. Kerry Vinson possesses the rare ability of being able to explain and convey his knowledge to a Court. Kerry Vinson answers all questions with straightforward and clear answers.
Kerry Vinson is the expert that government agencies, Humane Societies, Crown Attorney offices and Coroner's Court turn to when they require a thorough and objective analysis of a difficult situation. I have never had a case where Kerry Vinson's report and recommendations are not eventually relied upon and become the cornerstone of a resolution.

In addition to his legal expertise, Kerry Vinson has the personal touch when it comes to dealing with clients. Kerry understands and appreciates the stress and anxiety that a client and family experience when they become involved in the Court process. He is diligent and patient in responding to all client inquiries and concerns. Kerry Vinson views his role very much as an educator and teacher, not only to the Courts but to all individuals who are involved with dogs, professionally or personally.
Involving Kerry Vinson in your dog's life and yours is the best decision you can make."
Yours truly,
Patrick Metzler
56 The Esplanade, Suite 502
Toronto, Ontario  M5E 1A7